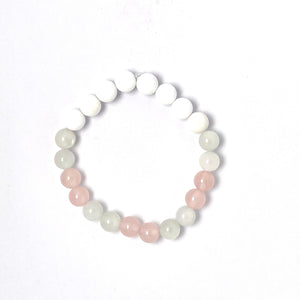 WHITE AGATE

Chakra: Crown
Zodiac sign: Gemini

White Agate is an excellent stone for rebalancing and harmonizing body, mind and spirit. It cleanses and stabilizes the aura, eliminating and transforming negativity. It enhances mental function, improving concentration, perception and analytical abilities. It soothes and calms, healing inner anger or tension and creates a sense of security and safety.
HEALING: It heals the eyes, stomach and uterus, cleanses the lymphatic system and pancreas, strengthens blood vessels and heals skin disorders.

_______

MOONSTONE
Chakra:
Sacral
Zodiac sign:
Cancer, Scorpio, Libra
The stone of new beginnings. Moonstone makes conscious the unconscious and promotes intuition and empathy. It calms overreactions to situations, it balances male and female energies and aids men who want to get in touch with their feminine side, it is the perfect antidote for macho man and overly aggressive female. Emotionally, it improves emotional intelligence, soothes emotional instability and stress, it heals the upper digestive tract. Physically, it affects the female reproductive cycle and alleviates menstrual disease and tension. It is helpful in cases of shock and can be used to calm hyperactive children.
HEALING: Moonstone helps the digestive and reproductive systems, assimilates nutrients, eliminates toxins and fluid retention, and alleviates degenerative conditions of skin, hair, eyes, and fleshy organs such as the liver and pancreas.

_______

ROSE QUARTZ
Chakra:
Heart
Zodiac sign:
Libra
Rose Quartz is a stone of unconditional love and infinite peace. It is the most important crystal for the heart and the heart chakra teaching the true essence of love. It purifies and opens the heart at all levels and brings deep inner healing and self-love. In existing relationships, it will restore trust, harmony and encourage unconditional love. This stone encourages self-forgiveness and acceptance and invokes self-trust and self-worth. It strengthens empathy and sensitivity and aids the acceptance of necessary change. Emotionally, Rose Quartz is the finest healer. Releasing unexpressed emotions and heartache and transmuting emotional conditioning that no longer serves, it soothes internalized pain and heals deprivation.

HEALING: Rose Quartz strengthens the physical heart and circulatory system and releases impurities from body fluids. Placed on the thymus, Rose Quartz aids chest and lung problems. It heals the kidneys and adrenals and alleviates vertigo. Rose Quartz is said to increase fertility. It is helpful in Alzheimer's, Parkinson's and senile dementia.