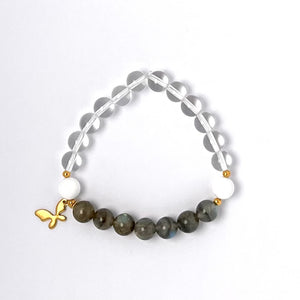 LABRADORITE
Chakra: Crown
Zodiac sign: Sagittarius, Scorpio, Leo
Labradorite is a highly mystical and protective stone, a bringer of light. It raises consciousness and connects with universal energies. Labradorite deflects unwanted energies from the aura and prevents energy leakage.
Labradorite aligns the physical and etheric bodies and accesses spiritual purpose. This stone stimulates intuition and psychic gifts, including the art of ''right timing'', bringing messages from the unconscious mind to the surface and facilitating their understanding. It strengthens faith in the self and trust in the universe. This stone removes other people's projections, including thought forms that have hooked into the aura.

HEALING: Labradorite treats disorders of the eyes and brain, relieves stress and regulates metabolism. It treats colds, gout, rheumatism, balances hormones and relieves menstrual tension and lowers blood pressure.

_______

WHITE AGATE

Chakra: Crown
Zodiac sign: Gemini

White Agate is an excellent stone for rebalancing and harmonizing body, mind and spirit. It cleanses and stabilizes the aura, eliminating and transforming negativity. It enhances mental function, improving concentration, perception and analytical abilities. It soothes and calms, healing inner anger or tension and creates a sense of security and safety.
HEALING: It heals the eyes, stomach and uterus, cleanses the lymphatic system and pancreas, strengthens blood vessels and heals skin disorders.

_______

CLEAR QUARTZ

Chakra: All
Zodiac sign: All

Clear Quartz is the most powerful healing and energy amplifier on the planet because of its unique helical spiral crystalline form. It enhances muscle testing and protects against radiation. Quartz generates electromagnetism and dispels static electricity. Storing information like a natural computer, this crystal is a spiritual library waiting to be accessed. It is a great energy saver. Clear Quartz is a master healer and can be used for any condition. Used in meditation, it filters out distractions. At a mental level, Clear Quartz aids concentration and unlocks memory.
HEALING: It stimulates the immune system and brings the body into balance. It is excellent for soothing burns. Quartz harmonizes all the chakras and aligns the subtle bodies.