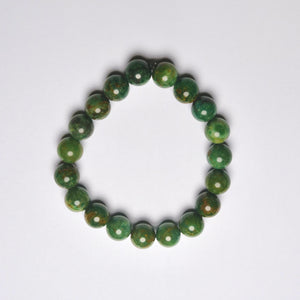 BLOODSTONE
Chakra: Root, Sacral, Solar Plexus
Zodiac sign: Scorpio, Aries, Virgo

Also called Heliotrope, Bloodstone is an excellent blood cleanser and a powerful healer. It is believed to have mystical and magical properties, controlling the weather and conferring the ability to banish evil and negativity and to direct spiritual energies. It heightens the intuition and increases creativity, stimulates dreaming and is a powerful revitalizer. Psychologically, Bloodstone gives courage and teaches how to avoid dangerous situations by strategic withdrawal and flexibility. It assists you in acting in the present moment.

HEALING: Bloodstone is an energy cleanser and immune stimulator for acute infections. It stimulates the flow of lymph and the metabolic processes, revitalizes and reenergizes when body and mind are exhausted. It is helpful in cases of leukemia as it supports the blood and removes toxins.