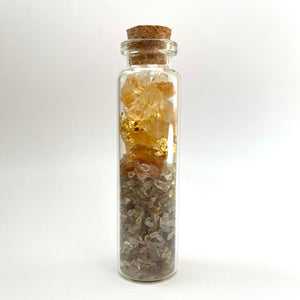 CITRINE
Chakra: Solar Plexus
Zodiac sign: Gemini, Aries, Libra, Leo

Citrine is a powerful cleanser and regenerator. It never needs cleansing. It absorbs, transmutes and grounds negative energy and is therefore extremely protective for the environment. Citrine is a stone of abundance. This dynamic stone teaches how to manifest and attracts wealth and prosperity, success and all the good things. Citrine is a happy, generous stone and encourages sharing what you have and yet helps you to hold on to your wealth. Psychologically, Citrine raises self-esteem and self-confidence and removes destructive tendencies. It enhances individuality, improves motivation, activates creativity and encourages self-expression. Mentally, Citrine enhances concentration and revitalizes the mind. Citrine promotes inner calm so that wisdom can emerge. It helps digesting information, analyzing situations and steering them in a positive direction.
HEALING: It is excellent for overcoming depression, fears and phobias. Citrine promotes inner calm so that wisdom can emerge. It stimulates digestion, the spleen and the pancreas. It negates infections in the kidney and bladder, helps eye problems, increases blood circulation, detoxifies the blood, activates the thymus and balances the thyroid.


______


BOTSWANA AGATE

Chakra: Crown
Zodiac sign: Gemini
Botswana Agate stimulates the crown chakra, bringing celestial and earth energy into the subtle bodies and harmonizing them with the physical body. This stone removes dualities and conflicts, maintaining well-being. Psychologically, Botswana Agate teaches that sexuality is a natural function and that sensuality is the appreciation by the senses of the fullness of life. Useful for people who are easily hurt, this stone teaches users to look for solutions rather than dwell on problems. It also assists anyone working with fire or smoke, and aids smokers who wants to quit.
HEALING: Enhances cellular memory and multi-dimensional healing, helps in cases of depression, detoxification, fertility, the brain, oxygen-assimilation, the chest, skin and the circulatory and nervous system.