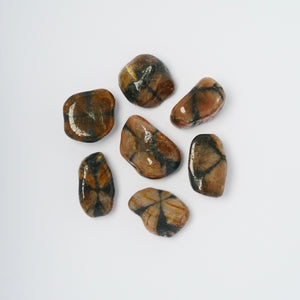 CHIASTOLITE

Chakra: Sacral
Zodiac sign: Capricorn, Libra

Chiastolite is a creative stone with the power to dispel negative thoughts and feelings. It transmutes conflict into harmony and aids problem- solving and change. This stone facilitates journeys out of the body and understanding and exploration of immortality. Chiastolite dissolves illusions and calms fears, enabling you to face reality and is particularly helpful in overcoming the fear of going mad. Chiastolite aids problem-solving by strengthening analytic capabilities. It clears feelings of guilt and stabilizes the emotions.
HEALING: Chiastolite lessens fevers, stanches blood flow, alleviates over acidification, heals rheumatism, gout, repairs chromosome damage and balances the immune system.