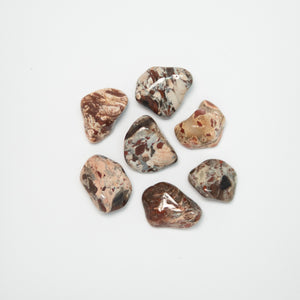 BRECCIATED JASPER
Chakra: Root, Sacral
Zodiac sign: Aries, Scorpio

Brecciated Jasper is an excellent aid to keeping your feet on the ground and attaining emotional stability. It draws excess energy away from the head, promoting mental clarity. It's a stone of strength and vitality. Brecciated Jasper is very supportive during times of stress and it can help to bring order and clarity to those who feel overwhelmed by the task of organization.

HEALING: Supports the circulatory, digestive, and sexual organs. It balances the mineral content of the body.