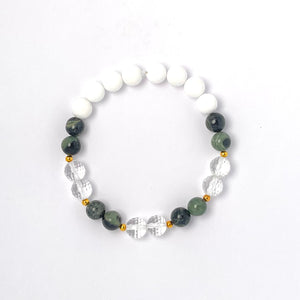 KAMBABA JASPER

Chakra: Root
Zodiac sign: Leo

This fossilized Jasper is also named Crocodile Jasper due to its resemblance to crocodile skin. A deeply earthing stone, it harmonizes you with the cycles of natural world, attuning your personal biorhythm to that of the planet. Kambaba Jasper is beneficial for the lungs, not only the human body, but that of the planet. This stone takes you back to your roots and reconnects you to the energy of Mother Earth and your purpose. Meditate with it to hear the wisdom that nature has to offer and to find a wise mentor for your spiritual path.
HEALING: Kambaba Jasper assists the digestive system, particularly the elimination of toxins and assimilation of vitamins and minerals. Encouraging detoxification and healing at the cellular level, it strengthens the body's structures and assists recovery from serious illness or psychosomatic dis-ease. Assisting the cerebellum, it may be helpful in diseases such as Parkinson's and balance the body on all levels bringing about optimum well-being.

_______


CLEAR QUARTZ

Chakra: All
Zodiac sign: All

Clear Quartz is the most powerful healing and energy amplifier on the planet because of its unique helical spiral crystalline form. It enhances muscle testing and protects against radiation. Quartz generates electromagnetism and dispels static electricity. Storing information like a natural computer, this crystal is a spiritual library waiting to be accessed. It is a great energy saver. Clear Quartz is a master healer and can be used for any condition. Used in meditation, it filters out distractions. At a mental level, Clear Quartz aids concentration and unlocks memory.
HEALING: It stimulates the immune system and brings the body into balance. It is excellent for soothing burns. Quartz harmonizes all the chakras and aligns the subtle bodies.

_______

WHITE AGATE

Chakra: Crown
Zodiac sign: Gemini

White Agate is an excellent stone for rebalancing and harmonizing body, mind and spirit. It cleanses and stabilizes the aura, eliminating and transforming negativity. It enhances mental function, improving concentration, perception and analytical abilities. It soothes and calms, healing inner anger or tension and creates a sense of security and safety.
HEALING: It heals the eyes, stomach and uterus, cleanses the lymphatic system and pancreas, strengthens blood vessels and heals skin disorders.