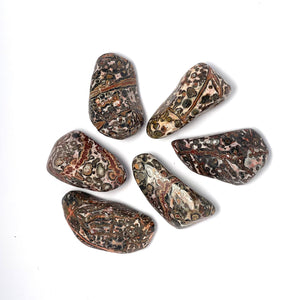 LEOPARDSKIN JASPER

Chakra: Third Eye, Throat
Zodiac sign: Gemini

Leopardskin Jasper assists in redressing the balance between light and dark. It helps you listen to your inner voice. This stone clears ingrained assumptions and teaches you to see what is, assessing your situation with clarity. Psychologically, Leopardskin Jasper reduces insecurities, heals the emotional body and strengthens a sense of self. The perfect tool for balance between passivity and activity. Emotionally, this stone overcomes guilt, fear and emotional stress, bringing in calm tranquility.
HEALING: Helpful for cellular memory, DNA, tissue regeneration, digestive processes, excretion, abdominal pain, skin diseases, kidney or gallstones and for overcoming body odor and insomnia.