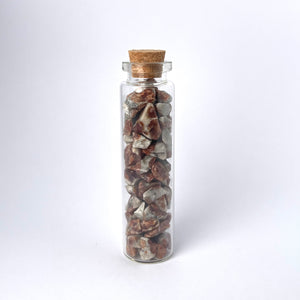 GARNET IN WOLLASTONITE

Chakra: Root, Sacral, Solar Plexus
Zodiac sign: Taurus, Virgo

Garnet in Wollastonite is an extremely protective stone against Burn Out syndrome, chronic fatigue and lack of energy. If worn around the neck or in a pocket, it realigns the meridians of the organs and instills self-esteem and certainty. It was said in ancient times that this particular stone was a good omen for all those who wished to heal or overcome important physical pains such as childbirth or operations without complications. Garnet in Wollastonite gives courage to the less courageous and guides towards freedom from fear. Ideally it should be worn.

HEALING: Wounds that don't heal. Nervous system and adrenal glands. Hold in hand or in contact with skin in case of pain.