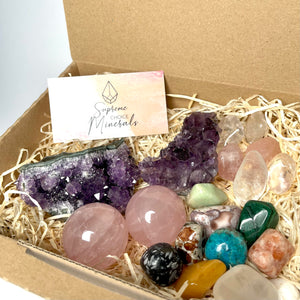 CRYSTAL SET:


AMETHYST

Chakra: Crown
Zodiac sign: Pisces, Virgo, Aquarius, Capricorn
Amethyst is one of the most spiritual stones. It cleanses the aura and stimulates the throat and crown chakra. It enhances intuition, psychic gifts, memory and improves motivation. Sleeping with an Amethyst facilitates out-of-body experiences and brings intuitive dreams. It can help remember and understand dreams better. At a subtle level, Amethyst balances and connects the physical, mental and emotional bodies linking them to the spiritual.

HEALING: Amethyst boosts production of hormones, and tunes the endocrine system and metabolism. It strengthens the cleansing and eliminating organs and the immune system. An excellent cleanser for the blood. It eases headaches and releases tension. Amethyst is beneficial for the intestines, regulating flora, removing parasites, and encouraging reabsorption of water.

_______


ROSE QUARTZ

Chakra: Heart
Zodiac sign: Libra

Rose Quartz is a stone of unconditional love and infinite peace. It is the most important crystal for the heart and the heart chakra teaching the true essence of love. It purifies and opens the heart at all levels and brings deep inner healing and self-love. In existing relationships, it will restore trust, harmony and encourage unconditional love. This stone encourages self-forgiveness and acceptance and invokes self-trust and self-worth. It strengthens empathy and sensitivity and aids the acceptance of necessary change. Emotionally, Rose Quartz is the finest healer. Releasing unexpressed emotions and heartache and transmuting emotional conditioning that no longer serves, it soothes internalized pain and heals deprivation.

HEALING: Rose Quartz strengthens the physical heart and circulatory system and releases impurities from body fluids. Placed on the thymus, Rose Quartz aids chest and lung problems. It heals the kidneys and adrenals and alleviates vertigo. Rose Quartz is said to increase fertility. It is helpful in Alzheimer's, Parkinson's and senile dementia.

_______


CLEAR QUARTZ

Chakra: All
Zodiac sign: All

Clear Quartz is the most powerful healing and energy amplifier on the planet because of its unique helical spiral crystalline form. It enhances muscle testing and protects against radiation. Quartz generates electromagnetism and dispels static electricity. Storing information like a natural computer, this crystal is a spiritual library waiting to be accessed. It is a great energy saver. Clear Quartz is a master healer and can be used for any condition. Used in meditation, it filters out distractions. At a mental level, Clear Quartz aids concentration and unlocks memory.
HEALING: It stimulates the immune system and brings the body into balance. It is excellent for soothing burns. Quartz harmonizes all the chakras and aligns the subtle bodies.

_______


CHRYSOPRASE
Chakra: Sacral, Heart
Zodiac sign: Taurus, Gemini, Libra
Chrysoprase imparts a sense of being a part of the divine whole. It induces deep meditative states. Said by the ancients to promote love of truth, Chrysoprase also promotes hope and gives personal insights. It encourages fidelity in business and personal relationships. Psychologically, Chrysoprase is calming, creating openness to new situations. Overcoming compulsive or impulsive thoughts and actions, it turns your attention to positive events. It is useful for forgiveness and compassion. This stone is excellent for relaxation and peaceful sleep.
HEALING: It balances the hormones, soothes the digestive system and increases absorption of Vitamin C. It aids gout, eye problems, and mental illness. It treats skin diseases, heart problems, and goiters, balances hormones, and soothes the digestive system.

_______

PINK BOTSWANA AGATE

Chakra: Crown
Zodiac sign: Gemini
Botswana Agate stimulates the crown chakra, bringing celestial and earth energy into the subtle bodies and harmonizing them with the physical body. This stone removes dualities and conflicts, maintaining well-being. Psychologically, Botswana Agate teaches that sexuality is a natural function and that sensuality is the appreciation by the senses of the fullness of life. Useful for people who are easily hurt, this stone teaches users to look for solutions rather than dwell on problems. It also assists anyone working with fire or smoke, and aids smokers who wants to quit.
HEALING: Enhances cellular memory and multi-dimensional healing, helps in cases of depression, detoxification, fertility, the brain, oxygen-assimilation, the chest, skin and the circulatory and nervous system.

_______


MALACHITE
Chakra: Heart
Zodiac sign: Capricorn, Scorpio

Malachite amplifies both positive and negative energies. It is an important protection stone. It absorbs negative energies and pollutants easily, picking them up from the atmosphere and from the body. It should be cleansed before and after use by placing it on a quartz cluster in the sun. This stone also guards against radiation of all kinds. Psychologically Malachite is a stone of transformation. It shows what is blocking your spiritual growth, draws out deep feelings, breaks unwanted ties and outworn patterns and teaches how to take responsibility for one's actions, thoughts and feelings.
HEALING: Malachite is useful for any kind of cramps, childbirth, lowers blood pressure, treats asthma, arthritis, epilepsy, fractures, swollen joints, tumors, pancreas, spleen and the parathyroid. It stimulates the liver to release toxins, reducing acidification of tissues.

_______


CHRYSOCOLLA
Chakra: Heart
Zodiac sign: Gemini, Virgo, Taurus
Chrysocolla is a tranquil and sustaining stone. It helps meditation and communication. Within the home, this stone draws off negative energies of all kind. It can help you to accept with serenity situations that are constantly changing, invoking great inner strength. Chrysocolla calms, cleanses and reenergizes all the chakras and aligns them with the divine. It enhances personal power and imparts creativity. It promotes truth-telling and impartiality. This stone reduces mental tensions and helps you to keep a cool head. It alleviates guilt and brings in joy.
HEALING: It detoxifies the liver, kidneys and intestines. This stone relieves arthritic pain, strengthens the thyroid and is beneficial to the metabolism. It treats PMS and menstrual cramps.

_______


GARNET IN WOLLASTONITE

Chakra: Root, Sacral, Solar Plexus
Zodiac sign: Taurus, Virgo

Garnet in Wollastonite is an extremely protective stone against Burn Out syndrome, chronic fatigue and lack of energy. If worn around the neck or in a pocket, it realigns the meridians of the organs and instills self-esteem and certainty. It was said in ancient times that this particular stone was a good omen for all those who wished to heal or overcome important physical pains such as childbirth or operations without complications. Garnet in Wollastonite gives courage to the less courageous and guides towards freedom from fear. Ideally it should be worn.

HEALING: Wounds that don't heal. Nervous system and adrenal glands. Hold in hand or in contact with skin in case of pain.

_______


SUNSTONE
Chakra: Root, Sacral, Solar Plexus
Zodiac sign: Leo, Libra
Sunstone is a joyful, light-inspiring stone. This stone allows the real self to shine through happily. Traditionally it linked to benevolent gods and to luck and good fortune. Sunstone is extremely useful for removing ''hooks'' from other people, whether located in the chakras or the aura. Keep Sunstone with you at all times if you have difficulty saying ''No'' and continually make sacrifices for others. Emotionally, Sunstone acts as an antidepressant and lifts dark moods. This stone reverses feelings of failure and increases self-worth and confidence.
HEALING: It stimulates self-healing powers, regulates the autonomic nervous system, and harmonizes all the organs. It treats chronic sore throats and relieves stomach ulcers.

_______


YELLOW AVENTURINE

Chakra: Solar Plexus
Zodiac sign: Aries
It is a great stone for opening the solar plexus chakra and balancing it. It's perfect for those people who are oversensitive and indecisive, issues relating to an unbalanced sacral chakra can also benefit from it. The helpful energies can aid those who have problems with power and control. Yellow Aventurine brings compassion and understanding, alleviating grief. It's a great protector against EP (electro-magnetic pollution).
HEALING: It benefits the thymus gland, connective tissue, and nervous system. It balances blood pressure and stimulates the metabolism, lowers the cholesterol and prevents arteriosclerosis and heart attacks.

_______


GIRASOL QUARTZ
Chakra: Throat
Zodiac sign: Cancer, Taurus
It enhances the connections between members of a soul family/group and shows where these are beneficial in present life. Indicating solutions to difficulties, especially where these could not be spoken about in the past, it brings untruths to light. Karmically Girasol is useful when past life experiences affect the present, especially as panic or phobias. Its dissolves imprints on the etheric blueprint enhancing communication. An emotional comforter, it separates psychic impressions from your own hidden feelings. Assisting in understanding the deep causes of disease. It strengthens boundaries and teaches how to satisfy your emotional needs.
HEALING: It helps iron assimilation, vision fatigue, metabolism, hair loss and the lymph nodes.

_______


CHRYSANTHEMUM STONE

Chakra: Root
Zodiac sign: Capricorn, Sagittarius

Chrysanthemum Stone exudes calm confidence and enhances any environment with its gentle presence. Radiating harmony, it synthesizes change with equilibrium and shows how the two can work together. This stone helps you to enjoy being centered in the present moment and encourages the self to bloom. It inspires and energizes, and brings endeavors to fruition. Chrysanthemum Stone teaches how to remain childlike, fun-loving, and innocent while on the spiritual path, and provides an impetuosity to self-development. Strengthening character, it overcomes bigotry, ignorance, narrow-mindedness, self-righteousness and jealousy and encourages showing more love to the world, which in turn brings more love into your life. Mentally, it counteracts superficiality. It adds depth to thought and guards against distractions. Emotionally, it brings stability and trust, eliminating resentment and animosity.

HEALING: Chrysanthemum Stone promotes physical maturation and transition. It treats the skin, skeleton, and eyes. It is a useful stone for dispersing toxins and dissolving growths.

_______


SCOLECITE
Chakra: Heart, Third Eye
Zodiac sign: Capricorn, Cancer

Scolecite is a gentle, high vibration crystal that promotes inner peace. This serene crystal assists with lucid dreaming and dream recall. It is extremely calming, encouraging unselfish love of one's self and inner contentment. Scolecite harmonizes the energies between two lovers or loved ones and helps those whose heart has been turned to "stone" to gently release the traumas of the past and love again.

HEALING: Scolecite is effective for MS and neurological rebalancing, and for realigning the spinal column and associated nerves. It is used for intestinal conditions including parasites and IBS, and supports the circulatory system and lungs.