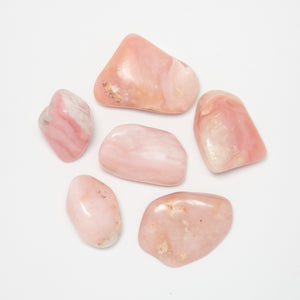 PINK ANDEAN OPAL
Chakra: Heart
Zodiac sign: Virgo, Libra, Sagittarius

Pink Andean Opal has a calming and soothing effect on the emotional body. It is well suited for very sensitive people and people whose heart needs healing. This type of Opal clears and calms the heart and brings a sense of love, peace, and tranquility to one's aura. It can be used or worn to keep one's connection to the angelic realms open and clear. It is a lovely stone for healing emotions, especially those connected with subconsciously held pain. It is said that meditating and sleeping with this type of Opal, helps one resolve any painful remembrances, allowing a gentle and loving compassion for one's self. It is very helpful in relieving fear, worry, or anxiety.
HEALING: It soothes the heart and stabilizes any irregular heartbeat. It supports the lungs and the utilization of oxygen in the body.