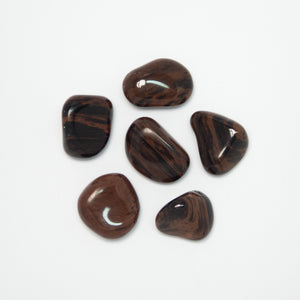 MAHOGANY OBSIDIAN

Chakra: Root, Sacral, Solar
Zodiac sign: Capricorn, Sagittarius

Mahogany Obsidian grounds and protects, gives a strength in times of need, vitalizes purpose, eliminates energy blockages, and stimulates growth on all levels. It is a stabilizing stone that strengthens a weak aura and restores the correct spin to the sacral and solar plexus chakras. Worn on the body, Mahogany Obsidian relieves pain and improves circulation. Spiritually, Obsidian vitalizes soul purpose. It eliminates energy blockages and relieves tension. Obsidian's greatest gift is insight into the cause of dis-ease.
HEALING: It aids digestion of anything that is hard to accept and promotes physical and subtle bodies, including hardened arteries. It reduces the pain of arthritis, joint problems, cramps and injuries. It can be used to shrink an enlarged prostate.