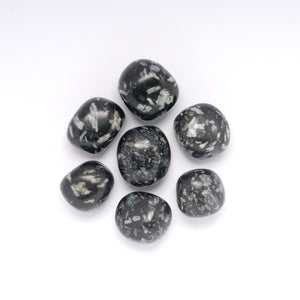 CHRYSANTHEMUM STONE

Chakra: Root
Zodiac sign: Capricorn, Sagittarius

Chrysanthemum Stone exudes calm confidence and enhances any environment with its gentle presence. Radiating harmony, it synthesizes change with equilibrium and shows how the two can work together. This stone helps you to enjoy being centered in the present moment and encourages the self to bloom. It inspires and energizes, and brings endeavors to fruition. Chrysanthemum Stone teaches how to remain childlike, fun-loving, and innocent while on the spiritual path, and provides an impetuosity to self-development. Strengthening character, it overcomes bigotry, ignorance, narrow-mindedness, self-righteousness and jealousy and encourages showing more love to the world, which in turn brings more love into your life. Mentally, it counteracts superficiality. It adds depth to thought and guards against distractions. Emotionally, it brings stability and trust, eliminating resentment and animosity.

HEALING: Chrysanthemum Stone promotes physical maturation and transition. It treats the skin, skeleton, and eyes. It is a useful stone for dispersing toxins and dissolving growths.