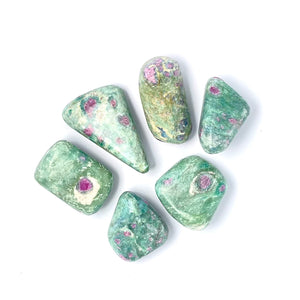 RUBY IN FUCHSITE
Chakra: Heart
Zodiac sign: Aquarius

Ruby in Fuchsite has the capacity to help heal the heart, removing any blockages to loving energies. It can help open you to psychic awareness and the realms of spirit and the natural world. The combination of Ruby and Fuchsite helps to deepen compassion, understanding and acceptance.

HEALING: It enhances tissue and cellular regeneration. This stone helps to improve recuperative abilities, whether it be the common cold or a major surgery. It can also help to enhance the strength of the immune system.