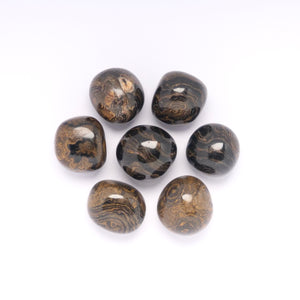 STROMATOLITE

Chakra: Throat, Crown
Zodiac sign: Capricorn, Aquarius

Created from fossilized algae, one of the earliest life forms and believed to have created the oxygen on our planet, Stromatolite carries eternal knowledge. Stromatolite is a useful aid to processing and learning from all your experiences. It instils flexibility and the ability to 'let go' or to opt out of disagreements while still maintaining your own point of view and fulfilling your personal and planetary goals. Stromatolite resonates with the oldest part of the brain stem and the autonomic processes of the body. Placed in the hollow at the base of the skull it removes blockages, patterns and programs that have been deeply ingrained and encourages assimilation of new patterns, instilling flexibility of mind. Encouraging healing at the cellular level, it strengthens the body's structures. Environmentally, Stromatolite assists with earth cleansing and healing. It supports photosynthesis in plants and increases oxygen output.

HEALING: It assists the thymus and throat and is traditionally used for hands and feet. It may be beneficial for Parkinson's and brain stem dis-ease. It energetically strengthens bones and teeth and supports the kidneys and bladder.